Wedding Packages
Imagine white sails, a gentle tropical breeze against your skin and the hand of your loved one in yours as you set sail on the azure Gulf waters. As the setting sun paints the sky with warm shades of yellow, orange and pink, the promises of love and a new life together are spoken. Is your dream wedding an intimate gathering on the water with the gentle rock of the waves beneath your feet?
This dream can be a reality on our 53-foot catamaran Wild Hearts.
Weddings on the water are romantic and unique. We offer wedding packages tailored to fit your budget. We can accommodate a wedding party of up to 49 people. Or, we have a package for an intimate wedding with the couple and a handful of family and friends.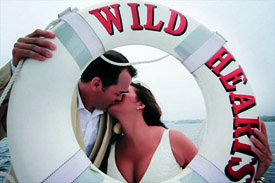 Just Us Wedding
An intimate ceremony with your family and friends.
Pre-boarding for you and your future spouse
Bridal Bouquet of 6 roses of any color with a satin wrapped stem
Groom's Boutonniere with a single matching rose
An 8-inch cake
Bottle of Champagne or sparkling cider
Sailing time is 1.5 to 2 hours
Accommodates up to 12 passengers
You may choose either a daytime sail or a sunset sail
Daytime sail: $1750 plus 10% tax, plus 20% tip for crew.
Additional Passenger rate $30
Sunset sail: $2250 plus 10% tax, plus 20% tip for crew
Additional Passenger rate $40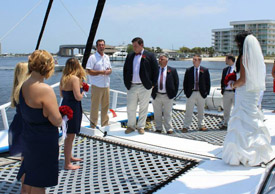 Champagne Toast
A destination wedding on the beautiful Alabama Gulf Coast with your family and friends.
Pre-boarding for the bride and groom
Intimate ceremony
Bridal Bouquet of 6 roses of any color with a satin wrapped stem
Groom's Boutonniere with a single matching rose
Fruit and cheese tray featuring fresh seasonal fruit and domestic and imported cheeses.
A 12-inch cake
Bottle of Champagne or sparkling cider
Complementary soft drinks and water
Sailing time is 1.5 to 2 hours
Accommodates up to 25 passengers
You may choose either a daytime sail or a sunset sail
Daytime sail: $2500 plus 10% tax, plus 20% tip for crew
Additional Passenger rate $30
Sunset sail: $3200 plus 10% tip, and 20% tip for crew
Additional Passenger rate $40

But let there be spaces in your togetherness and let the winds of the heavens dance between you. Love one another but make not a bond of love: let it rather be a moving sea between the shores of your souls.

- Khalil Gibran
Additional Services:
Photographer on Board: $400+
Musician on Board: from $350 to $650+ depending upon which musician/duo is available. Acoustical background music will be played during the ceremony and sail.
Minister on Board: $250+
Additional Menu Items:
Sushi begins at $5+ per person
Finger Sandwiches $35 to $100+